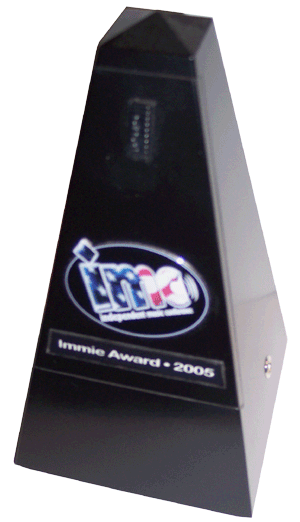 AWARDS NIGHT - IMMIE AWARDS AT THE IMC


In past years, to kick off the Independent Music Conference in style, we created a cool little award ceremony that gave some much deserved props to indies that have been doing it well for years. Many of you helped us pay tribute to these warriors by attending the Immie Awards at the IMC! The Immie Awards are on hiatus for the time being, but not gone forever! Watch the IMC web site for news of their return.

L to R: At the IMC2003 Immie Awards, Nashville based band, Mink posed with their Immie for "Indie Record of the Year, 2003." Connecticut based artist Bill Pere posed with Philly local, Mia Kim and their Immies. Bill was awarded "Indie of the Year, 2003" for his outstanding work as an independent musician and charity fundraiser. He has raised hundreds of thousands of dollars through his various musical efforts to help address the issues of hunger and poverty. Mia was awarded an Immie for outstanding web design. The musician also works as a very talented web designer, and her skill is tastefully displayed on her own web site: MiaKimOnline.

L to R: Noel Ramos, Host of the Immie Awards, poses with Co-Host, Melissa St. Jude of Philly's 94WYSP FM. Melissa and Noel's wife, Elaine, surprised him with a sort of an "Immie" of his own. Elaine commissioned a beautiful calligraphic print featuring a special work of prose with deep personal meaning for Noel, and Melissa surprised him by presenting it to him during the ceremony! Gilli Moon, the awesome Australian/Californian singer/songwriter, thanks Noel as Melissa looks on. Gilli was awarded an Immie for "Indie Label of the Year, 2003," to honor her work as an artist and also as a huge supporter of the other indies on her own label: Warrior Girl Records.
Lots of other Indies were honored over the years, and some great performances were also presented by IMC attendees. Don't miss the Immies when they return. Dress in your best creative black tie, enjoy some free food, great music and celebrate the achievements of some exemplary indies to help kick off the Independent Music Conference! Artists and industry people can become Immie Nominees in a number of ways... You can nominate someone! Just email us. We can nominate you! If you deserve some recognition, we might surprise you with an Immie, and our heartfelt thanks. Something amazing could happen! If you accomplished something exemplary, we may want to honor you at the next Immie Awards at the Independent Music Conference. Watch this page for news of their return.

---